February 5, 2020
Kobelco Construction Machinery Co., Ltd.
Kobelco Construction Machinery Co., Ltd. (or KCM), headquartered in Tokyo, held a ceremony at its Ogaki Factory in Ogaki, Gifu Prefecture, Japan to celebrate production of the 111,111th mini excavator at the factory. The ceremony was attended by about 400 people including guests, KCM's executives, and employees of the Ogaki Factory. KCM produces all the mini excavators for both domestic and overseas use at this factory.
KCM (formerly the Construction Machinery Division of Kobe Steel, Ltd. at that time) entered into the mini excavator business in 1988 and commenced production of 4- to 5-ton machines in Hiroshima in 1990. It later outsourced production of 1- to 3.5-ton machines to Shinko Engineering Co., Ltd., which is a group company of Kobe Steel and started to produce mini excavators at current Ogaki factory in 1992. In 2006, KCM established the mini excavator production framework in use today by taking over the mini excavator business from Shinko Engineering and relocating production of 4- to 5-ton machines from Hiroshima to the Ogaki Factory. With a production capacity of 7,300 units a year, the Ogaki Factory made a cumulative total of 111,111 units in January 2020 since the commencement of outsourced production.
At the ceremony, KCM's President and CEO Kazuhide Naraki said: "The cumulative production of 111,111 units is a milestone attained in strong headwinds. I would like to pay respect to the capabilities in development, manufacturing, sales, marketing, and services that our predecessors have established, and I would also like to recognize the efforts and hard work of employees by properly carrying on the legacy. I hope that you will continue to develop mini excavators that meet the expectations of customers around the world."
All the support from everyone, including customers, has enabled KCM to achieve production of 111,111 units. With a sense of gratitude toward everyone, KCM will continue to develop competitive products of high quality and make more timely and stable deliveries to customers.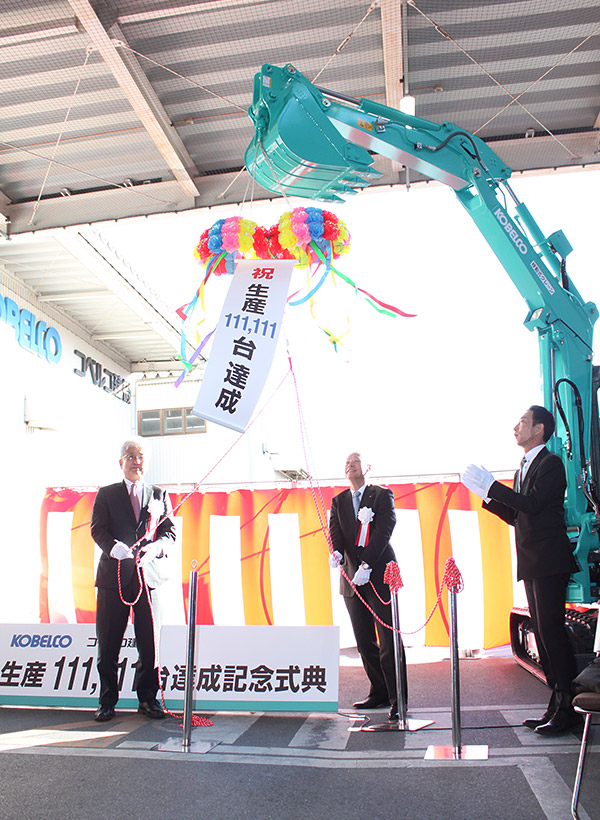 Opening the "kusudama" decorative ball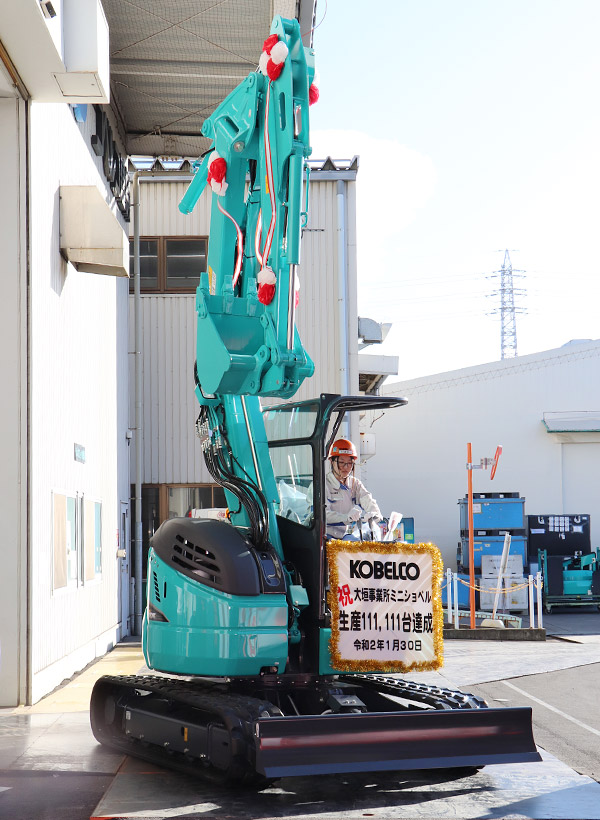 111,111th SK50UR-6E (mini excavator)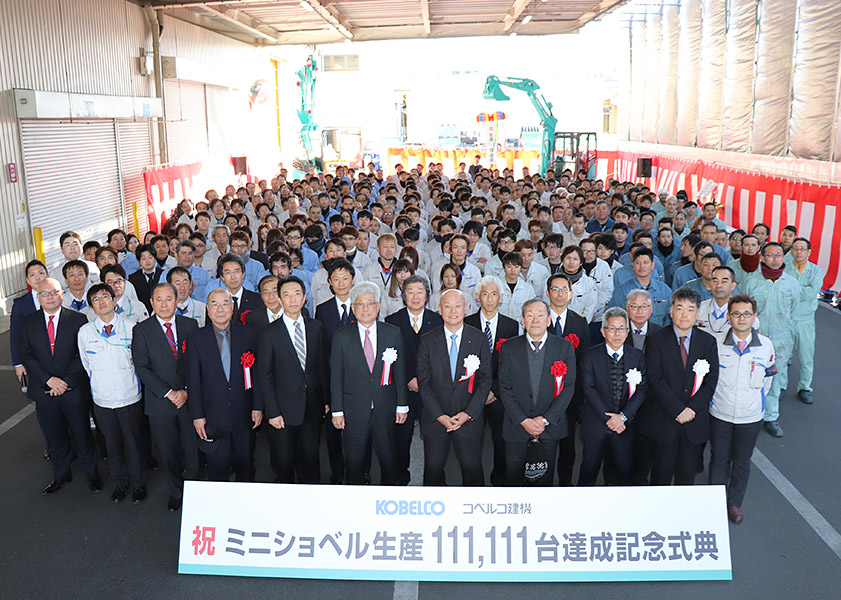 Commemorative photo with all ceremony attendees
| | |
| --- | --- |
| Location | 1682-7 Motoima-cho, Ogaki-shi, Gifu 503-0932 |
| Business Operations | Manufacture of mini excavators |
| Products | 1- to 5.5-ton mini excavators |
| Production Capacity | 7,300 units/year |
| Area | Site area of approx. 29,000 m²; building area of approx. 14,000 m² |
*The information contained herein is as of the date this announcement was made and it may be changed without prior notice.