Through our "user hands-on approach" based on the needs of users in the field, we dedicate ourselves to satisfying our customers by supplying them with products, services, and information that have true value, while contributing to the creation of a prosperous society.
In order to create a recycling-based society that is friendly to people and the environment, we intend to provide our customers around the world with innovative solutions that incorporate our creative wisdom and know-how.
Through activities that maximize customer value, we aim to achieve lasting growth and become a leading global brand.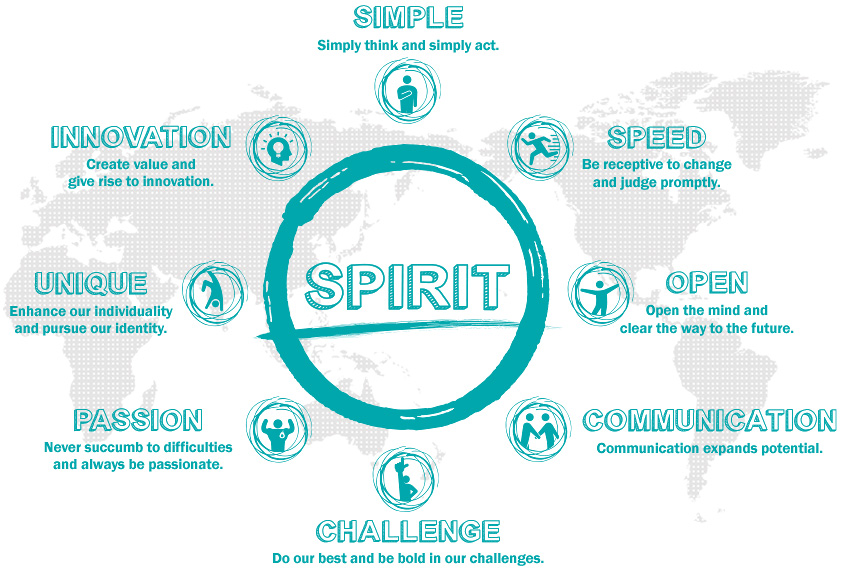 With a management philosophy that is dedicated to satisfying customers and contributing to society, all of our actions must meet that philosophy.
(1) SIMPLE

We think simply at all times.
To satisfy our customers, we constantly consider what can be done for the community and society.The important thing is to simply judge a situation from a position of fairness.In doing so, we clarify our issues and objectives, making it possible to move forward without any doubts.In short, we simply act.

(2) SPEED

Speed is important for us.
Rooted in society, our business is constantly changing. We remain attentive to everything, ascertaining the changes and quickly acting accordingly. That is what improves customer satisfaction and forms our basis for moving society. For us, it is about quickly making our decisions and acting on them.

(3) OPEN

We continue to be open.
Regardless of nationality, race, beliefs or gender, we respect each other's human rights and individuality. Our objective is to actively create a friendly workplace that actively allows self expression. The new values and free ideas that originate from such a workplace expand our future potential. It is our intention to continue creating an atmosphere for free-flowing relationships.

(4) COMMUNICATION

We actively engage in communication.
As our environment changes with every moment, it is important to indicate the direction to be taken by the team. For that purpose, we constantly listen to the voices around us and communicate to share information. An individual's information is disseminated to the team and objectives are adjusted to expand our potential. With that in mind, we actively listen and communicate.

(5) CHALLENGE

We do our best when facing a challenge.
We challenge difficult issues and find solutions through repeated trial and error. Even if we may not be able to overcome a current problem, continually challenging it can lead to a solution. That is why we never falter in our resolve nor do we find satisfaction in current situations. We will continue challenging whatever we may face in the future.

(6) PASSION

We do not give up no matter what happens.
Whatever difficult situation we face, we take pride in our work and see to its completion. We proceed with a strong will and passion, because they are the driving force of the times. We must always be enterprising, learning from our failures and never grow complacent with our success. It is up to us to keep our passion burning.

(7) UNIQUE

We value our individuality.
There are those things that only we can do; that only we can think of. Unique ideas are born from an unfettered free spirit. We recognize the values, integrate them and refine our individuality accordingly. In doing so, we will continue to be a unique corporation.

(8) INNOVATION

We will continue to change.
Our successes such as the skills we accumulate and our innovative solutions are boundto lose their value over time.That is why we must always look ahead and undertake the establishment of new benchmarks.We must avidly pursue innovation and attempt to top our past performances.
This Code of Conduct has been established as detailed rules to act in accordance with the Kobelco Construction Machinery (hereinafter "KCM") Group's corporate philosophy. All officers and employees belonging to the KCM Group must comply with the code in performing their daily corporate activities.
This Code of Conduct must be observed in all fields of corporate activities in which the KCM Group is involved. In situations not specified herein, we go back to our corporate philosophy, which is the basis for everything we do, and act in good faith and with sincerity based on the spirit of the philosophy.