June 6, 2016
Kobelco Construction Machinery Co., Ltd.
Kobelco Construction Machinery U.S.A. Inc. (or KCMU) held a grand opening on June 2 for its new hydraulic excavator plant built in Spartanburg County, South Carolina, USA. KCMU is the U.S. subsidiary of Kobelco Construction Machinery Co., Ltd. headquartered in Tokyo, Japan.
Among the approximately 130 attendees were the Honorable Takashi Shinozuka, Consul General of Japan in Atlanta; Jennifer Noel Fletcher, South Carolina's Deputy Secretary of Commerce; Tony Allen, South Carolina Department of Commerce; David Britt, Spartanburg County Council and Chairman of the Economic Development Committee; Hiroshi Sato, Director and former Chairman of Kobe Steel, Ltd.; other relevant officials; and representatives from local Japanese companies. From the Kobelco Construction Machinery Group, Kazuhide Naraki, President and CEO of Kobelco Construction Machinery; Katsuhiko "Pete" Morita, President and CEO of KCMU; and the employees of the Spartanburg plant participated in the event.
President Naraki expressed his gratitude for the warm welcome and strong support from the government of South Carolina, Spartanburg County, and Moore, where the new plant is located. "We're very glad to build our U.S. plant in such an excellent location. And we're confident that our new operation will greatly contribute to the economic growth of the Commonwealth of South Carolina and the United States of America." he said.
"We're thankful for the generous worker training support, attractive incentives and permission assistance received from the authorities attending the ceremony and also for all the hard work of the contractors who have participated in this project." said Naraki.
The new U.S. plant in Spartanburg County has been in operation since March, 2016, but the grand opening ceremony marks the start of full-scale production. The plant has initially begun manufacturing fuel-efficient 20-ton class excavators, for which demand is the highest in the U.S. market. KCMU plans to gradually increase production volume and expand the production menu. The new plant will actively undertake the same production improvement activities that have been implemented in Japan and will utilize the company's manufacturing capabilities to produce competitive products.
Under its Medium-Term Management Plan covering fiscal years 2016 to 2020, the Kobelco Construction Machinery Group has set a policy to "establish itself as a global excavator manufacturer by improving its presence in Europe, the U.S. and new growth areas." The Group will actively carry out initiatives to build a strong brand by expanding market share and to secure a solid base, positioning North America as a "market for growth." With the full-scale operation of the Spartanburg Plant, Kobelco will now be able to reduce production lead time for its North American customers, better accommodate market needs, expand the range of cross-sourcing channels, and establish an optimum production structure throughout the entire Group.
Land area
About 310,000 m2 (76 acres)
Building Area
Plant: About 14,500 m2 (156,000 square feet)
Office: About 1,600 m2 (17,000 square feet)
Production Capacity
1,800 units/year
Products
20-ton hydraulic excavators
(Product lineup to be expanded gradually by 2020)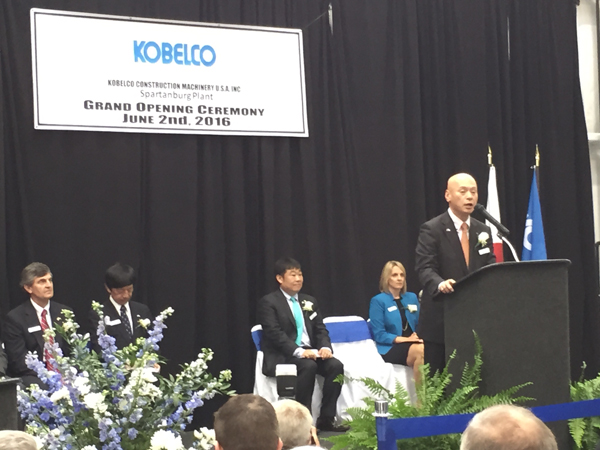 Remarks by Kazuhide Naraki, President and CEO of Kobelco Construction Machinery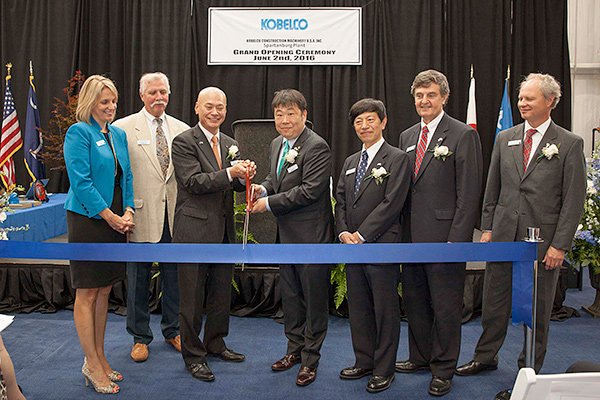 Kobelco officials and special guests of the community participate in a ceremonial ribbon cutting.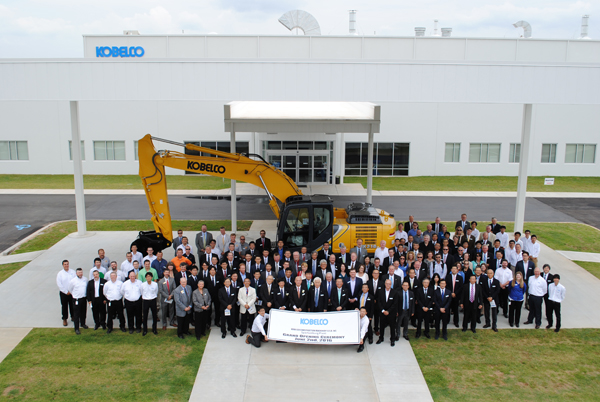 At the Grand Opening Ceremony: Attendees with the first machine manufactured at the plant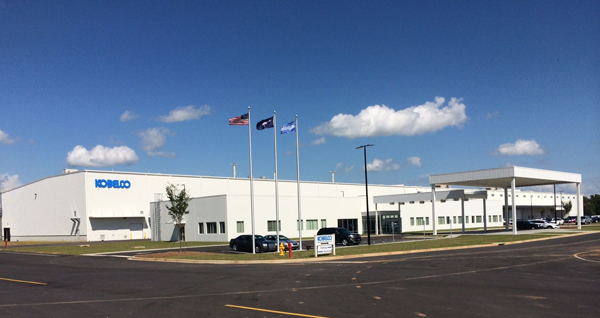 New U.S. excavator plant in Spartanburg, South Carolina
For more information on Kobelco Construction Machinery U.S.A. Inc., please visit
www.KOBELCO-USA.com
*The information contained herein is as of the date this announcement was made and it may be changed without a prior notice.