IoT Solution
To a Workplace Where Anybody Can Work
- KOBELCO IoT -
A decreasing work force, training today's youth for the next generation of workers and on-site safety measures...
KOBELCO's IoT Solution was created to address these and other problems that are faced at the workplace.
Using the latest advanced technologies,
KOBELCO challenges to revolutionize the jobs of each worker to create a next generation workplace where anybody can work.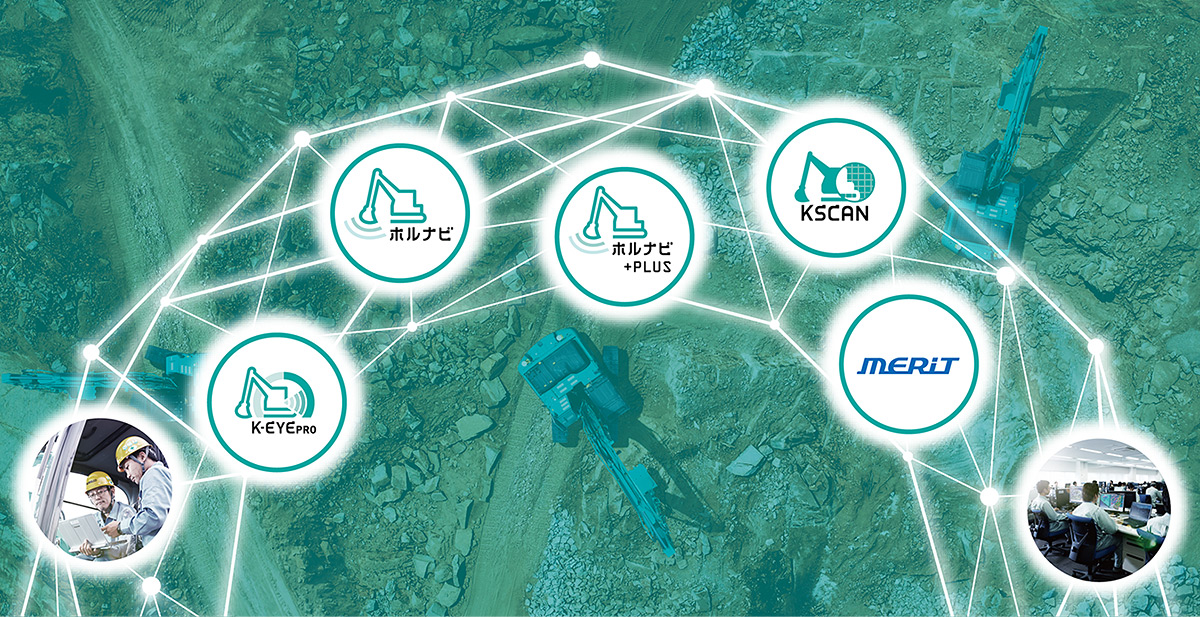 Machine Guidance &
The "Dig Nav" Control System
"Dig Nav" is a guidance system that uses a display and alarm to help navigate the operation of an excavator. There is a 2D guidance system that allows you to operate an excavator like a GPS navigator and a 3D guidance system that uses GNSS (Global Navigation Satellite System). The GNSS system allows highly precise operations by providing the position and direction of the excavator constantly and collating the information from desigh data.
In addition, there is the "Dig Nav +PLUS" 3D machine control which allows to construct along the design simply by arm lever control. Productivity can be significantly improved by selecting the Information and Communication Technology (ICT) construction method that best suits a particular construction site.
KOBELCO's Unique Preventive Maintenance System "K Scan"
"K Scan" conducts daily sensory detection of numerical values that include water and oil temperatures, fuel injection volume and pump output. With that data as its base, the system observes the status of an excavator. When the values reach a certain level, the system suggests appropriate maintenance measures. In addition, a service man inspects a stationary machine at high idle during maintenance. Together with the status observation, the service man prevents any possible problems by investigating detailed data carefully to ensure an excavator's stable operation.
*Some services may not be available due to operating location or radio wave conditions.